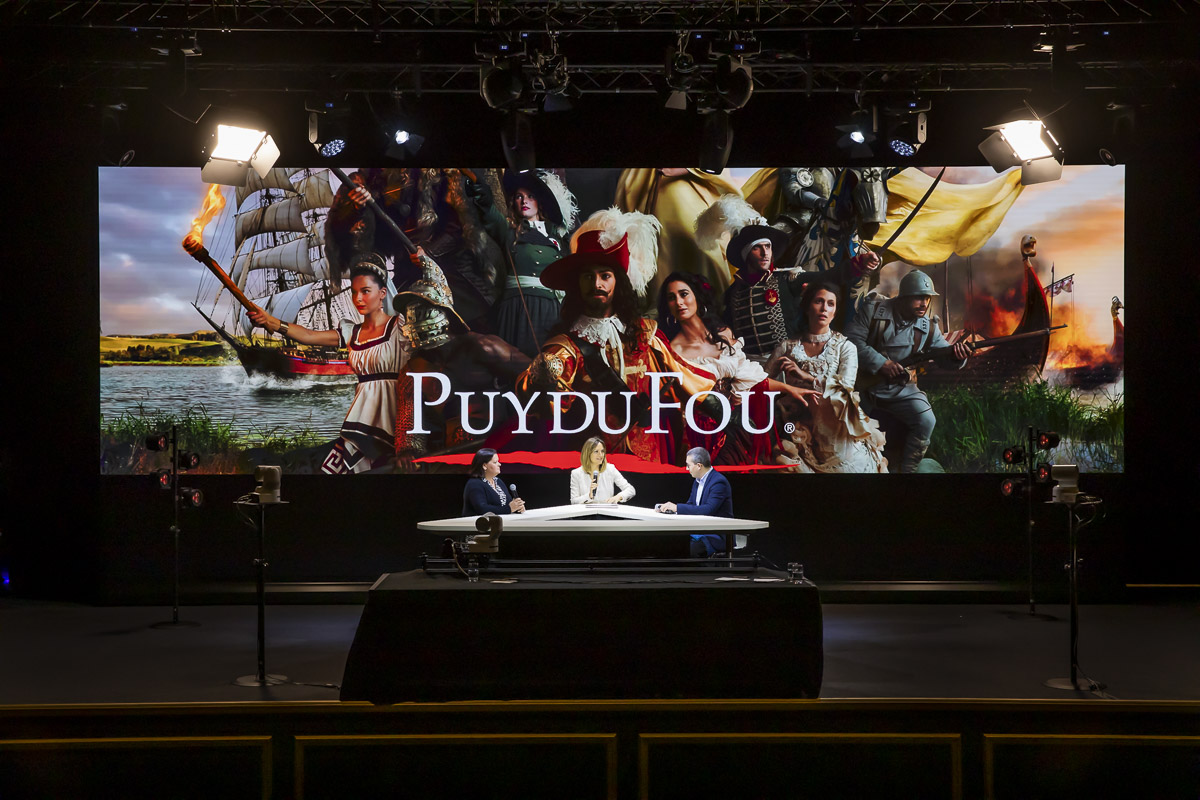 Your turnkey digital event live from Puy du Fou
To continue your events online and enable a wider audience to attend, Puy du Fou Congrès has come up with a turnkey range of services to digitalise your seminar, conference or convention. Tell us what you need and we'll provide a simple and economic solution to design a successful online event with you. 
Puy du Fou's full range of technology and a selection of pioneering partners are at your service. We can transform our sets and facilities into amazing studios according to your wishes and aims.
Digital events: what are the challenges for your company?
Organising digital events was the obvious choice during the COVID-19 health crisis, but the format has many other advantages outside of that context. 
To attract more people to attend and go beyond the physical limits of a meeting place, digital solutions offer unlimited prospects for live events with tools to interact with the auditorium.  
Replay will give a 2nd life to your event in order to increase its reach and effectiveness.
Why host your digital event at Puy du Fou?
Renowned for its creativity and mastery of the most cutting-edge technology, Puy du Fou can bring all its expertise to your digital events. Our stage sets become amazing studios, our facilities offer every comfort, and our teams can support you in putting on the event you have imagined. 
Despite the physical distance, all attendees will be impressed by the technical, artistic and visual quality of your event.
Make your digital event a success thanks to: 
-    The power of our network and technical equipment 
-    The commitment of Puy du Fou's technical team, experts in cutting-edge technology
-    Our selection of specialist partners to complement our own facilities
-    360° support from the Puy du Fou teams
-    The 6 Puy du Fou hotels on site 
-    Tailored catering service following health rules 
-    A wide range of spaces and sets for a unique event and creation of custom-made studios
Our equipment makes your conference a timeless experience 
Whatever the nature and needs of your event, we have the right facilities for you. From 30m² to 2,000m², our rooms and sets can accommodate 2 to 2,000 people on site and an unlimited number online.

Contact us 
To lay the foundations for the online event you're planning, our team is here to answer all your questions and build a tailored offering that meets your needs perfectly.